Everyone loves a good trip to the beach, but Jersey Shore boardwalks are where the real memories are made. Whether you make it a day trip or have weekend or week-long plans for a summer vacation, one thing you most definitely don't want to miss is time on the boardwalk. From frozen custard and funnel cakes to rides and mini-golf—and a few that feature water parks and toddler amusements—a boardwalk ups the ante on your usual trip to the beach. Boardwalks and the Jersey Shore go hand-in-hand, but if you are making only one trip this year, make sure it's to one of the best!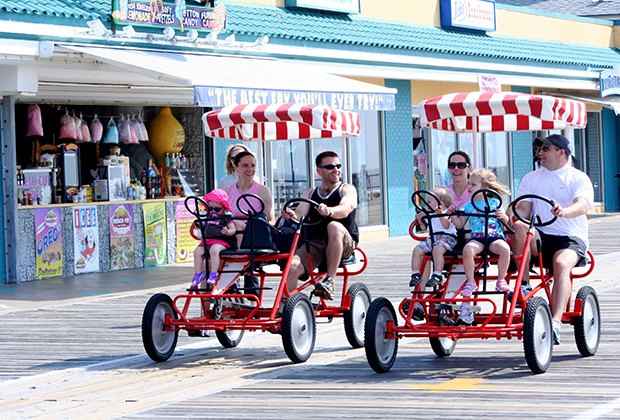 Ocean City
Boasting a 2.5-mile boardwalk, Ocean City is one of the most family-friendly beach boardwalks. Rent a bike and pedal safely in the bike lanes, enjoy a round of mini-golf, or take a break from the sun in the arcade or cool off in the OC Waterpark. Enjoy tasty treats like salt water taffy and ice cream, or grab a real meal from Ike's Famous Crabcakes. Forgot to pack beach toys? There is also plenty of shopping along this boardwalk. Playland's Castaway Cove on the boardwalk offers more than 30 rides, including roller coasters, but also several more mild ones for younger siblings. Further up the boardwalk you'll find Gillian's Wonderland Pier with another 30 so rides, from log flume and high-flying swings to mini kiddie rides indoors.

Beach, boardwalk, and rides makes a perfect vacation combination at Seaside Heights. Photo courtesy of Seaside Heights Boardwalk
Seaside Heights
This boardwalk is reasserting itself as a top entertainment zone after rebuilding from the destruction of Superstorm Sandy and a boardwalk fire. Some classic rides have been updated, like bumper cars and Disk'o—and 2017 brought the return of a massive Ferris wheel and a brand-new roller coaster, the Hydrus, at Casino Pier. Its Breakwater Beach Waterpark offers plenty of twisty slides, a lazy river, and some smaller thrills for little kids, including several new family-friend attractions for 2019 such as flying elephants, crazy cabs, and a mermaid parade. There is plenty of pirating fun to be had for the younger kids, and games of chance for all ages. Thrill seekers will love the sky-coaster, while a leisurely Sky Ride on the chair-lift like ride that gently coasts above the beach is a must-do at least once for all. And like every great boardwalk, plenty to eat, tasty treats, and souvenirs.

With so many rides and games, it's hard to decide what to do first at Wildwood Boardwalk. Photo by Rose Gordon Sala
Wildwoods
This 38-block long boardwalk has it all. Water parks, great food, live entertainment, and several piers, including the popular Morey's Piers and Raging Waters Water Park, that feature more than 100 rides and attractions—no wonder it's ranked as one of the best. Coaster-loving families will be excited to know that the Runaway Tram will open in 2019 to kick off the park's 50th season. Kids will love to ride the little boardwalk tram to transport you from one end to the other. Family festivities also feature an overnight "bunk down" for those who likes sleeping outdoors. Daily events include parades and crafts for kids. Try the Splash Zone Waterpark too!
Atlantic City
Of course much of the entertainment here stems from the casinos, but really, this boardwalk is for the water adventurer. Get surf boards, paddle boards, or windsurf instruction and equipment from the boardwalk. There's even a lighthouse to explore. Bring the kids to Steel Pier, a tightly packed pier loaded with rides and other amusements. AC boardwalk shopping is probably the best on the list, and of course has easy access to the nearby outlets. Nab the boardwalk tram, or perhaps an iconic rolling chair, to navigate the length of the shore.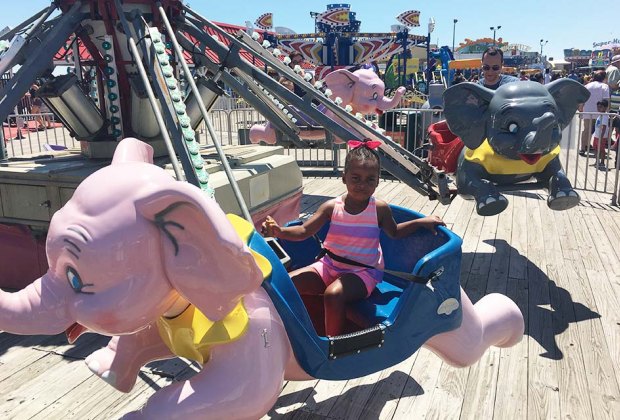 Jenkinson's Boardwalk and Aquarium in Point Pleasant
A highlight of this classic boardwalk is the aquarium, which has some great sea life including seals, sharks, and penguins, as well as a touch tank filled with sting rays. Every Thursday the boardwalk hosts a fireworks display, and it regularly plays summertime family movies. Plus, there are tons of rides that are great for kids of all ages. An entire section of the amusement park is devoted to kiddie rides just right for toddlers and preschoolers. A ropes course opened in 2016, too. And don't miss the mini-golf courses, fun house, arcades, and 7D dark ride.