Paddling a raft or floating on a tube down a rushing river is a summer thrill your kids won't get at a local water park. If you're looking for an exciting alternative to the beach, head west toward the Delaware River for a ride with the current, splashing and gliding past the wildlife and cliff-side rock formations. Most tubing adventures are suitable for children age 4 and up, and life jackets are required. Check websites for pricing and reservation information. And be sure to bring river shoes to protect everyone's feet from the slippery, rocky riverbed! For more family fun, including water parks and campgrounds, check out our Summer Fun Guide.
Delaware River Family Campground – Columbia
Riverside fun includes rafting, tubing, kayaking, and canoeing at one of the state's best family-friendly campgrounds. Trailer and cabin rentals are also available for a family camping adventure in the Delaware Water Gap.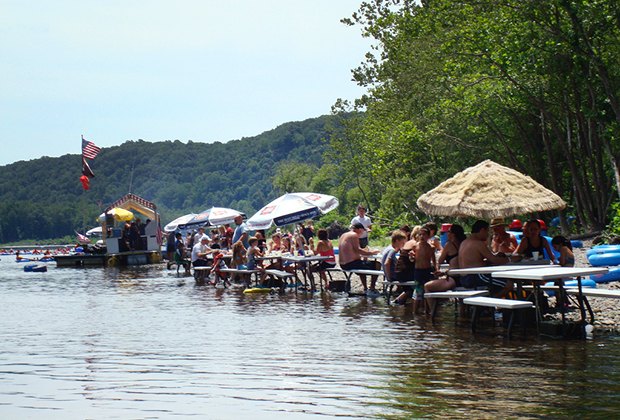 Enjoy a BBQ lunch on the water with Delaware River Tubing.
Delaware River Tubing – Milford
Choose between tubing, rafting, canoeing, or kayaking at this Delaware River outfitter. Halfway down the river, enjoy a BBQ lunch, knee-deep in the current, at the Famous River Hot Dog Man. Lunch is included with rental fees. Tube straps allow families to tether tubes together, so little ones don't float too far ahead.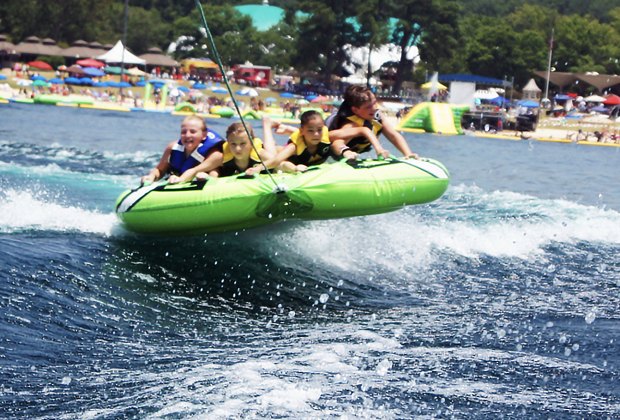 Hang on tight! Lakeview Marina offers motorboat-towed tubing adventures.
Lakeview Marina – Lake Hopatcong
Tubing around the lake with a motorboat controlling the speed is a great way for kids to experience a thrilling ride. Older, more adventurous children may opt for tube surfing—kneeling or standing on a tube as it is towed around the lake. Reservations required.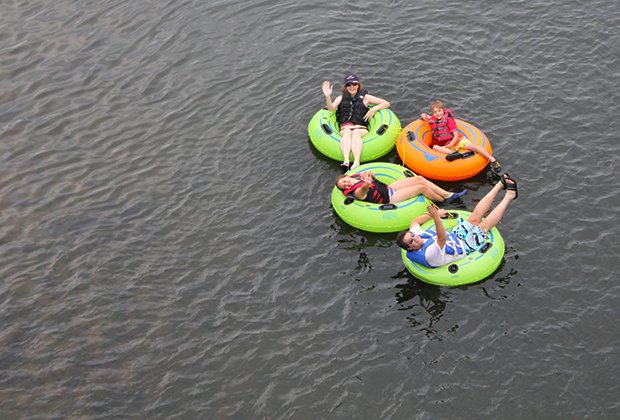 Twin Rivers offers family-friendly tubing and more in the calm waters of the Middle Delaware River. 
Twin Rivers Tubing – Phillipsburg
Enjoy family-friendly tubing, rafting, canoeing, and kayaking on the Middle Delaware River at this fully equipped outfitter. Pack a picnic lunch and enjoy miles of riverfront, or stop by the new patio bar for refreshments after a day on the water. Make a weekend of it and combine your tubing adventure with a trip to the Crayola Factory, which is just a mile away. Reservations required. Ages 6 and up.
Winding River Campground – Mays Landing
Head down the shore for a day of tubing, kayaking, or canoeing on the Egg Harbor River in Atlantic County. Daily rentals are available for two- to six-hour river trips, and overnight campsite amenities are available for an additional fee.
For more Delaware River options, head north to New York State or west to Pennsylvania: 
Bucks County River Country – Point Pleasant, PA
With three- or four-hour tubing trips, and inflatables in four different sizes (including a new, double "snuggle" tube), this Bucks County destination has adventure tailored for all ages. Life jackets required for all children 13 and under.
Kittatinny Canoes – Barryville, NY
Seven locations along the Delaware in New York and Pennsylvania make Kittatinny a great option for families willing to drive a bit further north or west. Some launch spots are slightly more rugged than others, and all require reservations. Overnight paddling trips are also available in Delaware Water Gap National Recreation Area.